What to Look For, and What to Avoid From a Sacramento Commercial Mechanical Contractor With 50 Years of Experience
When hiring a mechanical contractor, it's important to consider specific questions related to their experience, qualifications and professionalism before embarking on your project. Your choice of mechanical contractor is an impactful one that is felt directly by you and your tenants.
Because they'll be determining your facility's comfort and indoor environment, the mechanical contractor constantly "touches" your tenants when they are in the building. If it is too hot or too cold, it impacts everyone personally- leading to decreased productivity and unhappiness. To help protect you and your tenants, you need to make an informed choice.
Here are some questions to ask potential contractors to help weed through the prospects and make a good choice:
1. Has your contractor successfully completed your project type in the recent past?
It's important to obtain references and project specifications for past projects, in order to have peace of mind that they will be able to accomplish what you're hiring them for.
2. How long has the contractor been an established firm?
Is the mechanical contractor newly established (which can mean they have not had extensive experience in the type of project you're interested in) or have they been in business for decades? The more experience they have, the better equipped they could be to handle specialized situations and problem-solving.
3. What percentage of your contractor's business is repeat or referral business?
Do their clients keep coming back? If a contractor has lots of repeat business compared to brand new customers, this could be a good sign that they are trustworthy, reliable and successful with what they take on.
4. Does your contractor specialize in commercial or residential projects?
When hiring a mechanical contractor for a commercial project, it's important to hire a company that specializes in commercial work or, even better, is solely a commercial mechanical contractor. Commercial projects have a much larger scope, skillset and standard of work- therefore, you will get the best result hiring a commercial-only contractor.
Cooper Oates is a commercial mechanical contractor based in Sacramento, CA with 50 years of experience. If you're searching for a qualified HVAC or plumbing contractor in the northern California region, contact us today.
5. Does the contractor carry sufficient general liability, workers' compensation insurance, and have up-to-date state licenses?
Check with your mechanical contractor that all their industry licenses and certifications are accurate and up to date. It's important to ensure they carry sufficient general liability and worker's compensation insurance to protect your project from legal action if accidents happen.
6. Does the contractor have a documented commitment to safety?
Make sure your project is completed SAFELY! Ask your contractor what they do to protect their workers and how they actively prioritize safety in the workplace. What type of "safety culture" does the contractor nourish? Is safety prioritized? Check with them about their serious or general OSHA violations.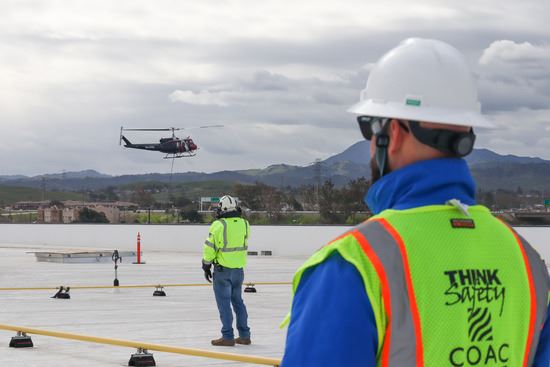 ​
7. Does your contractor warranty their work? If so, for how long, and are extended warranties available?
Make sure your project will run smoothly not only while the work is being completed, but after the new equipment is installed. Will you be covered under warranty if something goes wrong? How long will the warranty be active and under which circumstances?
8. Will the contractor be pulling the necessary building permits?
Make sure your contractor pulls the necessary building permits for your project to comply with local regulations.
9. Does the contractor have a plan to minimize any disruption to building occupants?
If your project involves work in an occupied building, does the contractor have a plan, and experience with, working in occupied environments to minimize tenant disruption? If the contractor is inexperienced with working in occupied buildings, this could cost you your occupant retention leading to loss of revenue if too much disruption is caused.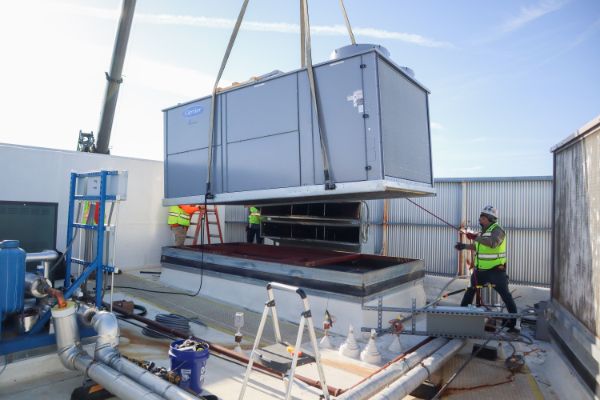 10. Does the contractor take your plan as given, or suggest improvements or modifications to the requested specifications to add efficiency and value to your project?
You come to a mechanical contractor with a goal and specifications- but you'd like them to use their expertise to make your project run smoother and more successfully. Does the contractor provide value outside of the plans you give them, or simply take what you say as given with no concern to make it better?
11. Does the contractor have a 24-hour 7 day a week emergency service?
Your project may be completed within a short time frame, but what happens after that? Make sure your contractor will be there to service your mechanical systems in case of emergencies- meaning 24/7/365 service whenever an issue arises.
You do not want to be left on a hot summer day with a broken A/C unit and a contractor who won't provide you with a fast service response time!
12. Are the contractor's technicians trained and certified in the most up-to-date equipment and processes?
When deciding who to place your trust in for the mechanical equipment in your most important investment, whether it be a project you're hiring a sub-contractor for or the commercial building you manage, it's essential to guarantee the contractor's technicians are highly trained and updated in industry standards and trends. Ask them about how their technicians are qualified and what type of training programs they have implemented.
The Bottom Line
When you are ready to place the comfort of your facility in the hands of a mechanical contractor, take these questions into account. Hiring someone who aligns with the type of service or project you are looking for will pay off in the long run- going the cheap route can be quite expensive!
Cooper Oates: Sacramento's Premier Mechanical Contractor
If you are in search of a qualified mechanical contractor with over 50 years of experience, contact Cooper Oates today. From plan & spec, design/build, service and special projects, our team is eager and ready to deliver value and outstanding service throughout our working relationship. Let us show you how we've upheld our reputation for excellence.
We happily service Sacramento and the surrounding Northern California region- as far north as Chico, CA, east to Napa, west to Placerville, south to Turlock and in between including Rancho Cordova, Folsom, Elk Grove, Roseville, Woodland, Stockton, Davis, Yuba City, Auburn, Sutter Creek and Lincoln.